The links in the post below may be affiliate links that support our current homesteading wants checklist. Read the
full disclosure
to learn more and find out what your purchases are supporting.
I've got a jar of dessert, I've got a jar of dessert, I've got a jar of dessert!
My life is super crazy, so I've been searching for ways to reduce time wasters, particularly cooking. There are a few that I've found intriguing, but only one that seems to meet all of my ideals. I want a time-saving cooking method that I can do using what I already have in my kitchen. I don't own an
Instant Pot
, but I have heard good things about this electric pressure cooker. I really don't want to buy one right now though, so the
Instant Pot
is out.
I want something that doesn't require any refrigeration in case of emergencies, so freezer meals would be out, especially since so many use disposable packaging. I don't want to problem solve my through that learning curve.
The one that has the most appeal for me is the meals in a jar and here is why: Meals in a jar wouldn't require any disposable packaging, can be prepared in advance and in bulk, and can be adapted for Crockpot meals, Instant Pot meals, campfires, stovetops, or oven use, etc. My idea is to phase slowly into once a month prep for meals in a jar. Then meals would be home canned foods and/or meals in a jar. Just add stuff from the fridge, dump and go every night!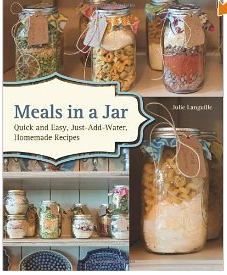 The problem with most meals in a jar is that they are very specific recipes. Taco soup or muffins in a jar, etc. This may create the need for specialized ingredients and your family may not even like it. My solution? Create universal meal in a jar formulas so that you and I can adapt the recipes we already use to become once a month solution that uses flavors we like so we waste less food, time, and money.
What is this formula? It's very simple, only put the dry ingredients in a mason jar one at a time. (Try to make a several jars/meals worth at a time for maximum time savings. Shake a little to level it out between ingredients. Label by writing favorite recipe title on a piece of one-sided scratch paper. Glue on label with homemade wheat paste. Place meal starts in pantry for your next busy day! This recipe is a great place to start (and one of my favorites), as you can use whatever you have on hand to make a great
muffin mix
.
You will never need to test out meals in a jar exclusive recipes again, just use your tried and true recipes that you know your family will love. Then you can happily say that you too have a jar of (insert family favorite here) or dessert!
Saving time one jar of dessert (or meal) at a time,
Little Urban Greenie
Shared at:
Bouquet of Talent Party,
Home Design Inspirations Party
,
Inspiration Galore Party Project
,
Nifty Thrifty Party
,
Inspiration Monday
,
Makers Make Party
,
Mix It Up Monday
,
Creative Corner
,
Creative Gallery
,
A Round Tuit
,
Block Party
,
The Scoop Link Party
,
Create Link Inspire Party
,
Clever Chicks Bloghop
,
Lou Lou Girls' Fabulous Party
,
Project Inspire
,
Totally Terrific Tuesday Link Party
,
Home Away From Home Party
,
Inspire Me Tuesday
,
Share It Tuesday
,
Creative Muster Party
,
Urban Naturale Blog Hop
,
Homestead Blog Hop,
Wow Us Wednesdays
,
Homesteader Blog Hop
,
Wonderful Wednesday Blop Hop
,
Wednesday AIM Link Party
,
Wise Woman Linkup
,
Wine'd Down Wednesdays
,
Wildly Original Link Party
,
Be Clean Be Green With Kids Linkup
,
Waste Less Wednesdays
Wow Me Wednesdays
,
Artsy Fartsy Link Party
,
Think Tank Thursday Link Up
,
This is How We Roll Thursday
,
Simple Homestead Bloghop
,
Foodie Friends Friday Link Up Party,
What to Do Weekends Party
,
Pretty Pintastic Party
,
Pinworthy Projects Party
,
Home Matters Party
,
Friday Feature Linky Party
,
Friendship Friday
,
Frenzy Friday
,
Dear Creatives Linkup
,
Simple Saturdays Bloghop, Dare to Share Linkup,
Saturday Sharefest
,
Share One More Time Party
,
Create Bake Make Party